Wheelchair Vans by Eldorado
Setting new standards for quality engineering, creative design and meticulous craftsmanship, the Amerivan provides practical solutions to today's mobility challenges.
The No Rust Handicap Van
The Amerivan is built to last, just like our legendary bus products. In fact, we're the only lowered-floor minivan you can buy with an all stainless steel floor standard on all GM and Dodge models. This means our wheelchair accessible conversion will not rust out like other handicap van manufacturers. Our sturdy aluminum power fold-out ramp features a dependable motor drive for effortless, push-button operation. Door, ramp and kneeling are all actuated with the simple touch of a button. Inside, Q-Straint tie-downs provide greater security and are located for maximum value. Wide passenger side and driver side sliding doors offer convenient, easy access for all. Amerivan conversions feature lowered rear seats and front seats which can be easily removed.
The crash tested Amerivan design meets or exceeds all applicable U.S. vehicle safety standards. ElDorado National is ISO 9001:2008 Certified.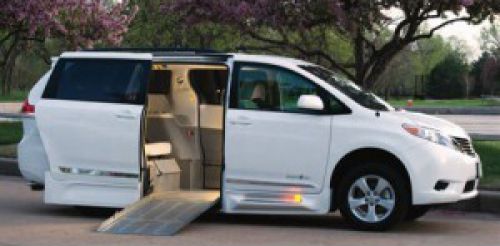 Amerivan Classic Toyota Wheelchair Van
Make Way For This Wheelchair Van The Amerivan is Eledorado Nationals Toyota wheelchair van and it is unique style and design for transporting wheelchairs manul or power. The Amerivan Classic Toyota features a power ramp that allows entering or exiting very easy. Features and options are avai...
Learn More
Amerivan 10 Wheelchair Accessible Vans
Made Specifically For The Retail Market Made specifically for the retail market, the Amerivan 10's interior delivers superior passenger comfort and better visibility while driving or riding. In addition, a deeper "firewall cut" adds more space for wheelchair footr...
Learn More
Amerivan Classic
Still Meeting The Needs Today The Amerivan provides practical solutions for today's mobilitychallenges, inside and out. The Amerivan comes standard with the widest ramp and door opening in the industry, allowing ease of entry and exit effortless. The driver area contains easily ac...
Learn More
Toyota Amerivan RL
Reliable Toyota Amerivan RL The Amerivan RL is ElDorado Mobility's conversion of the Toyota minivan and is a unique, lowered floor design for transporting mobility-challenged individuals. The Amerivan RL features a high strength, powder coated aluminum non-skid manual folding ramp. The stur...
Learn More