If stairs create a barrier to enjoying your home, a Bruno stairlift helps restore access, safety, and peace of mind. Family-owned, Bruno offers stairlift choices for every budget and space. The best-selling stair lift in America over the last 20 years, Bruno sets the standard for stairlift quality, design and safety. Your local Bruno dealer will help you choose a chairlift that's right for you and provide professional, respectful installation and service. Thank you for considering a Bruno stairlift!
Bruno Stairlifts Are Made in the USA
Bruno Stairlifts Take Up Less Space: Whether your staircase is straight or curved -- inside or outside -- Bruno offers a chairlift that matches your needs. With the tightest wall-to-rail fit and one of the smallest folded chair widths in the industry, no stair lift takes up less space than Bruno.
Bruno Elan Straight Rail
The Elan Straight Rail Stairlift Offers Exceptional Value. A home stairlift with features usually associated with top-of-the-line models, our Elan (SRE-3000) keeps stair lift prices in line and on track. Going upstairs and down has never been so effortless and inexpensive. While all of our hom...
Learn More
Bruno Elite Indoor Straight Stairlift
The Elite Straight Rail Stairlift is a Work of Art With superior styling and superb craftsmanship, the Elite (Model SRE-2010) offers the finest in streamlined, ultra-compact design and performance. A home chair lift that reflects the taste and sophistication of the most elegant homes, the Elite s...
Learn More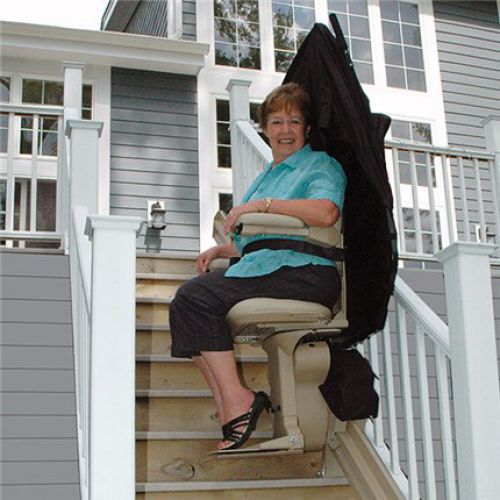 Bruno Outdoor Elite Straight
Bruno's Outdoor Elite Provides Exterior Access The Outdoor Elite is the leader among chair lifts for outside applications. An outdoor stair lift with many standard features, it's remarkable. Built in Wisconsin and tested in all types of weather, the Outdoor Elite is reliable, safe,...
Learn More
Bruno Outdoor Elite Curve Stairlift
Handsome and Dependable… Access To and From the Great Outdoors! The Outdoor Elite Custom Curved Rail Stairlift is specifically designed for exterior use, providing you with the same quality, comfort and convenience available with Bruno's complete line of straight and curved rail stairl...
Learn More
Bruno Elite Custom Curve Stairlift
Bruno Designs Beautiful, Curved Stairlifts Just for Your Home Every custom curved stairlift is crafted to exact specifications of your stairway. Bruno curved stair lifts provide access while adding to your home's character. With a safe and durable design, Bruno's Elite Curve (CR...
Learn More