Revability
More than just wheelchair accessible vans, Revability is innovation that means something. It's reliability that makes a difference, and it's the freedom to connect with the world.
From our supportive customer service teams, to our certified technicians and devoted sales members, Revability is committed to giving passengers access to every destination, providing opportunities for unconditional adventuring, and delivering wheelchair accessible vans that offer unlimited movement throughout the world.
More Access
Revability is focused on product innovations that get customers where they need to go, both comfortably and reliably.
That starts with access to the most comprehensive and user-driven features the market has to offer. From industry-best ramp widths, entry points, interior space and capacities—these WAVs put our drivers and passengers where they want to be without sacrificing storage, style or maneuverability.
More Choices
Rear entry, side entry, hybrid, and your choice between a ramp or wheelchair lift. These are just a few of the vehicle options available for Revability customers.
Created by some of the industry's most trusted vehicle manufacturers, you'll have peace of mind as you explore in one of our Dodge Grand Caravan, Chrysler Pacifica, Toyota Sienna or Ram ProMaster wheelchair accessible vans. Plus, depending on your choice, the entry point, interior features, color, and even the type of van—standard or hybrid—is at your discretion.
FIRST-EVER
PLUG-IN HYBRID ELECTRIC VEHICLE FOR MOBILITY PASSENGERS
Revability is proud to introduce the all-new Chrysler Pacifica PHEV, the first of its kind in the mobility van market.
Chrsyler Pacifica ADVANTAGE RE
ADVANTAGE RE The Pacifica Advantage RE provides wheelchair access from any parking spot, and the 1,000-pound capacity manual ramp deploys with ease. Second and third-row seating options provide maximum passenger and wheelchair flexibility. Quality Construction Passengers of the Chrysler Pac...
Learn More
DODGE GRAND CARAVAN ADVANTAGE SE
DODGE GRAND CARAVAN ADVANTAGE SE Available with a 10- or 14" lowered floor, the Advantage SE comes standard with the widest ramp and door opening in the industry, as well as an easy access ramp and kneeling controls. Conversion Features Strong Fold-Out Ramp Power Ramp With Key Fo...
Learn More
DODGE GRAND CARAVAN ADVANTAGE RE
DODGE GRAND CARAVAN ADVANTAGE RE Wheelchair accessibility without compromising OE styling and function. The Advantage RE is Fully ADA compliant, and comes with a 1,000-pound capacity bi-fold manual ramp. A power ramp option is also available. STANDARDS AND OPTIONS Air Conditioning with...
Learn More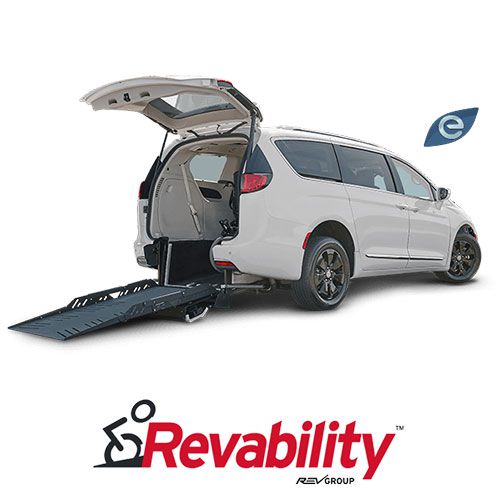 CHRYSLER PACIFICA PHEV
CHRYSLER PACIFICA PHEV With an EPA estimated 84 MPGe, the Chrysler Pacifica PHEV offers an economical, green alternative for consumers and operators alike. This plug-in hybrid electric vehicle accommodates one wheelchair, and offers 2nd row seating flexibility with fixed or fold-away options. ...
Learn More
TOYOTA SIENNA ADVANTAGE RE
TOYOTA SIENNA ADVANTAGE RE With the industry's widest rear access opening, the Sienna Advantage RE includes several options for rear passenger seating. Accommodating up to 6 passengers or 4 passengers with a wheelchair, there's always a spot in the lot with the Advantage RE! STAN...
Learn More
RAM PROMASTER ADVANTAGE 1500
RAM PROMASTER ADVANTAGE 1500 The Advantage 1500 offers a rear kneeling suspension, a reinforced L Track flooring system for seating and wheelchair securement, and enhanced interior trim and LED lighting options. Passengers will also find a 1,000-pound ADA-compliant ramp that's available up ...
Learn More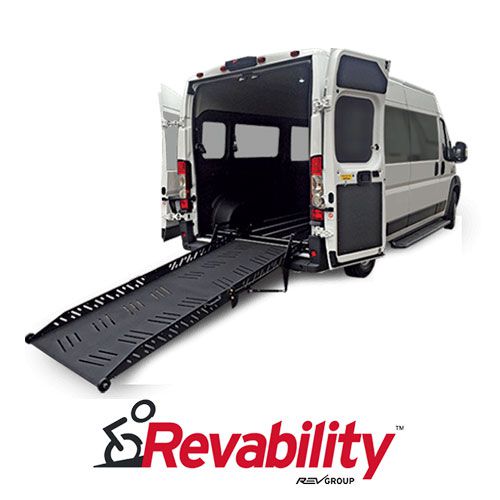 RAM PROMASTER ADVANTAGE 2500
RAM PROMASTER ADVANTAGE 2500 The Advantage 2500 offers users more interior room and flexibility. In addition to a 1,000-pound ADA-compliant ramp that's available up to 42" wide, the 2500 is available with our exclusive kneeling rear suspension, L track flooring system, and optional re...
Learn More